All orders are placed through the Manufacturer's Representative
PLACING YOUR ORDER
Orders must include customer purchase order number, deposit, series number, description, size and finish. When ordering furniture not shown in Design Renderings*, please include drawing or photo with all specifications indicated. All orders will be acknowledged in writing with a current F.O.B. delivery date within 10 days of receipt. If you do not receive an acknowledgment, please contact our manufacturer's representative at once.
SPECIFICATIONS
All furniture is constructed with materials appropriate for contract use. The highest quality craftsmanship is our trademark.
QUOTATIONS ON CUSTOM BUILT FURNITURE
The Design Renderings* shows our standard line. However, we will manufacture furniture to your specifications, which is our specialty. When you require a price quote or when ordering a custom piece of furniture not shown, please provide a drawing or photo with all specifications indicated. Due to cost fluctuations, special quotes are valid for only 30 days. If you need assistance, please contact our manufacturer's representative.
TERMS
A 50% deposit is required with all orders. Balance to be paid before delivery. Prices are subject to change without notice.
SHIPPING/CLAIMS
Merchandise is sold F.O.B. factory. Damage which becomes apparent when the merchandise is unpacked should be reported to the carrier as soon as discovered. Note damage in writing on freight bill. Claims for shortages must be made within 10 days after receipt of goods. Consignee must handle all claims.
RETURNS
Contact Stepsky Custom Furniture for information.
CANCELLATIONS
Confirmed orders may not be terminated without written consent. A cancellation charge may apply to orders cancelled.
CHANGE ORDERS
We reserve the right to refuse any changes, or charge material, labor and other costs, plus add a minimum upcharge of 15% to the price of the merchandise affected by any changes not previously accepted.
CUSTOMER'S OWN MATERIAL
Shipments of customer's own material ( COM ) must be clearly marked with order confirmation number and an item number to permit identification. If lacking, we assume no responsibility. We reserve the right to change pricing, or cancel an order at any time if the material supplied by the customer is inadequate for any reason.
BOXING AND CRATING
All prices include superior boxing and crating.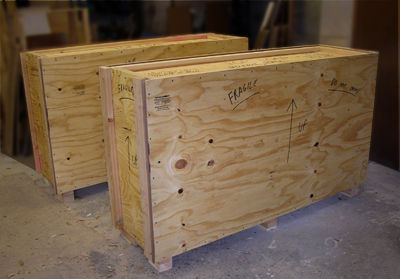 ____________
* Download Design Renderings ( PDF 635 KB ). PDF format and requires Adobe Acrobat Reader. If you do not already have the FREE Acrobat Reader, you can download it here:
Adobe Acrobat Reader